Tag Archives: Visual Studio
Cortana can easily be extended to aid you with your DIY home automaton projects. In this example Cortana sends MQTT commands to open and close a garage door as well as ring the doorbell with custom jingles. By the way, you don't have to use MQTT, you can also do a whole lot of other things as well from opening a file, opening a program, or launching your favorite websites.
As of the writing of this entry I am frantically trying to finish documenting the MQTT Doorbell and Garage Door Opener devices in separate posts. Hopefully I can get those whipped out in a few days.
Read More…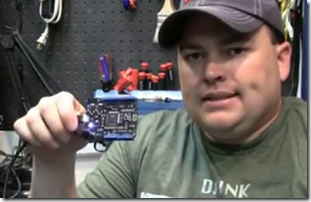 Programming your Netduino with C# is fine and all, however, I am not going to do it any more. It is super easy to make the switch to a more forgiving programming language by the name of Visual Basic or VB. Read More…
Looking for the Add-In Manager in Microsoft Visual Studio 2010 Express? Trying to figure out how to install Add-ins? Sorry to say, but the ability to load add ins is not included in the express versions of Visual Studio. 🙁  It looks like you need at least the standard edition of VS.
It took me about 30 minutes of searching to learn this so I thought I would make a quick post in case it helps someone out.